The celebration of Black History Month continues, and as a supportive gesture, we would like to highlight some Black-owned businesses in the cannabis industry who have persevered despite the disproportionately negative effects of criminalization around CBD and cannabis, especially in the Black community. We wish to recognize the hard work of these brilliant entrepreneurs battling stigmatization around CBD and cannabis. We urge everyone to show support for these businesses, not just this month, but year-round. In this article, we present some Black-owned dispensaries and Black-owned CBD brands that we believe are worthy of attention.
For the fitness-focused among us, Legends offers "athlete grade CBD" designed specifically for "active living." Their mission is to offer a natural alternative to athletes who have turned to opioids to handle pain and discomfort, leading to healthier and more long-lasting effects. Legends was founded by Antonio Harvey and George Lynch, two former athletes themselves.
This dispensary made history as the first dispensary in Los Angeles owned by Black women. Out of over 200 dispensaries in the LA area, theirs is still the only one owned by Black women, making their mission clear — to lead with equity and women at the forefront.
"We are the physical manifestation of Black feminine resistance, power, and creativity," they say, making it part of their structure to re-invest back into the South Central Los Angeles community.
Frigg has a different kind of focus, instead zeroing in on hair and skin. Voted the best in CBD skincare by Byrdie magazine, Frigg offers top-tier CBD products for hair, face, and edibles. This brand is all about being warm, welcoming, and educational, offering a place where the beauty world feels a little less stressful and a lot more fun.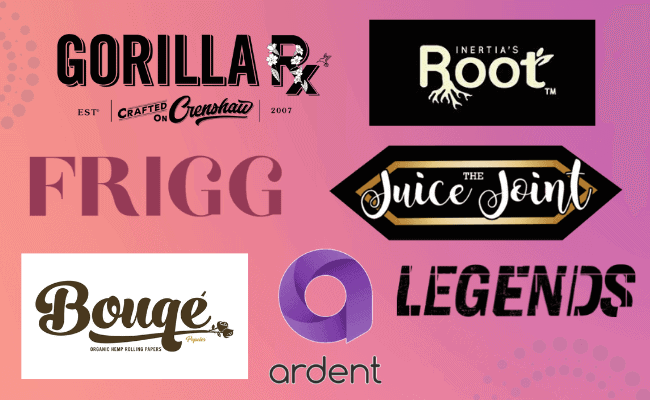 Self-described as "all natural rolling papers for the culture," Bouqé (pronounced bouquet) is here to elevate the rolling experience. They take the art of rolling seriously, and want their customers to do the same, helping people avoid the irritation, tears, and negative tastes that come with lesser products.
Boston-based Ardent is a Black-owned "Canna-kitchen." They're on the cutting edge of science, not just existing as a Black-owned cannabis business but as a representation of Black people in STEM, too. Keep an eye on these guys for smokeless dosage technology of the future, and cutting edge infusion kits to create the ultimate cannabis-inspired kitchen in the meantime.
Are you in need of a dedicated supply chain or transportation network to move your harvest to a buyer? Inertia's Root is a Black-owned licensed cultivator, post-harvest processor, and manufacturer. They're here to represent Black-owned cannabis businesses in the realm of small batch processing, helping others start their own CBD brands with white label services, and providing wholesale bulk orders.
This woman and Black-owned business was voted one of the best of Delaware in 2021. While most of their venue focuses on delicious vegan and vegetarian smoothies, bowls, and juices, they offer truly special CBD and weed infused options to really elevate. Their two-step cold extraction process ensures that any order won't just be packed with premium cannabis — it'll be packed with nutrients, too.